Metal fluids are dangerous if it gets in contact with the operator's skin or if the operator by accident inhales the mist. The fluids are used during machining of metals to provide lubrication and cooling and can also be used to carry away debris. To lower the risk, air guns with safety shields or extension pipes can be used.


The risk of metal fluids
Metal fluids are dangerous for the operator if:
The mist is inhaled.

Gets skin contact.

Enters the blood through cuts.

Enters the body/mouth (through eating or smoking without washing hands).
Compressed air is often used to clean away metal fluids efficiently. When an air blow gun is used to clean away liquids, it is common that small amounts splashes back towards the operator. Which could be dangerous. Therefore, it is important to use air blow guns that minimizes the risk of this. HSE (Health and Safety Executive of United Kingdom) has published guidelines to prevent these types of risks and specified what air blow guns to use.


Air blow guns that safely clean away metal fluids
If compressed air is used for cleaning away metal fluids, HSE has listed the following alternatives as good solutions, that decreases the risk of injuries:
Use an air blow gun with exit pressure of 30 psi / 2.1 Bar.

Use an air blow gun with a nozzle design that allows efficient cleaning at lower pressures.

Use an air blow gun with long lance.
Blowing with compressed air should only be used if necessary.


Install safety air blow gun for cleaning away metal fluids
There are safety air blow guns that suits this kind of applications. These are equipped with either a safety shield or an extension pipe. Both features make sure that the operator is secured from splashing back liquids.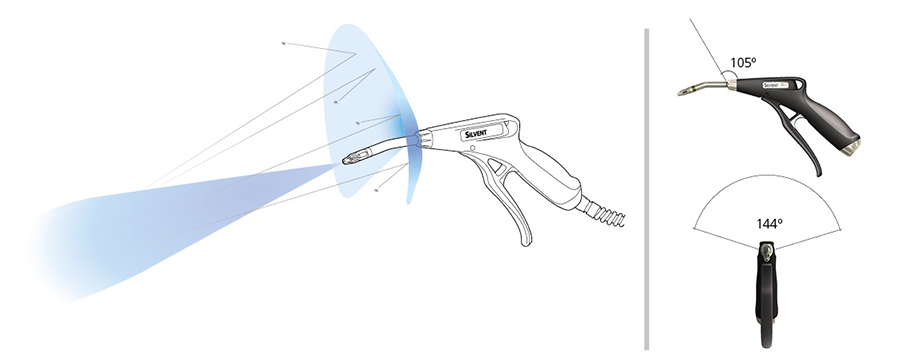 Silvent's air blow gun Pro One is fitted with a special designed nozzle that allows the operator to work efficiently even at lower pressures. The air blow gun can also be equipped with a safety air shield that minimizes the amount of liquid that splashes back towards the operator's hand and body. To provide a longer safety distance the air blow gun Pro One can also be ordered with a 300-millimeter-long extension pipe, without loss of blowing force.
By using a safety air blow gun, with either a safety shield or an extension pipe it is possible to improve the safety and working environment for the operators working with metal fluids.
Several of our air blow guns can be ordered with either safety shield and/or extension pipe in different lengths (from 250 mm up to 1000 mm), contact one of our representatives to get more information.