Blowing with compressed air is often a reason for sound levels exceeding OSHA noise exposure levels. The main problem is that traditional air guns generates a considerable amount of turbulence resulting in high and dangerous sound levels. If professional safety air blow guns are used, it is possible to reduce the turbulence and decrease the noise level.


Avoid being in the Hearing Conservation Program
OSHA's Hearing Conservation Program will be activated when the employees noise exposures are equal to or exceeds an 8-hour time-weighted average sound level of 85 dB(A).

According to OSHA 1910.95 this is how long you are permitted to work a day, depending on the level of sound:
| | |
| --- | --- |
| Work time a day | Sound level* |
| 8 hours | 90 dB(A) |
| 6 hours | 92 dB(A) |
| 4 hours | 95 dB(A) |
| 3 hours | 97 dB(A) |
| 2 hours | 100 dB(A) |
| 1,5 hour | 102 dB(A) |
| 1 hour | 105 dB(A) |
| 0,5 hour | 110 dB(A) |
* The sound level in the table is the A-weighted equivalent sound level (dB(A)), measured over a given time period.

By replacing traditional air guns, which in many cases exceed these limits, with OSHA compliant air blow guns from Silvent, it is possible to keep the sound level at a permissible level and avoid OSHA's Hearing Conservation Program. Silvent air blow guns are developed for use in the manufacturing industry and are designed to combine safe, quiet and efficient blowing with compressed air.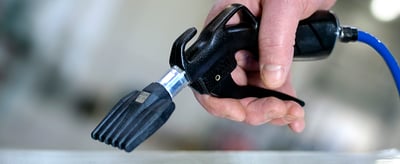 Take action to lower the sound to a permissible level
To exit the OSHA Hearing Conservation Program the effected company must take action to lower the 8-hour time-weighted average sound level below 85 dB(A). There are several actions to do this. Step one regards administrative or engineering controls and in step two all affected employees should be provided with Personal Protective Equipment (PPE) that the employer shall ensure are worn. If the noise level is not decreased to an acceptable level or if the PPE is not worn correctly, the company will be obligated with a fine.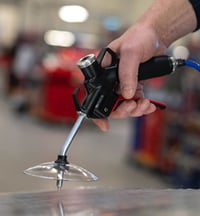 To avoid limiting the personnel's working time, the first action that has to be taken is to provide solutions that generate a lower noise level. Since blowing with compressed air is one of the biggest generators of noise, it is efficient to start by replacing related equipment.
Silvent's OSHA compliant air blow guns have a special technology that in many cases make it possible to lower the noise level up to 50%, while still providing a high concentrated blowing force for the operators. The quiet air blow guns make it possible to work longer without exceeding the permissible noise exposures. The nozzle placed on the air blow guns tip also have a special design that eliminate the risk of total blockage, which makes it possible to blow efficiently without lowering the pressure. Read more about how Silvent's air blow guns also prevent non-compliance of OSHA 1910.242(b).
Our representatives are experts in compressed air blowing applications and will help you find a safe, quiet, efficient and effective solution.